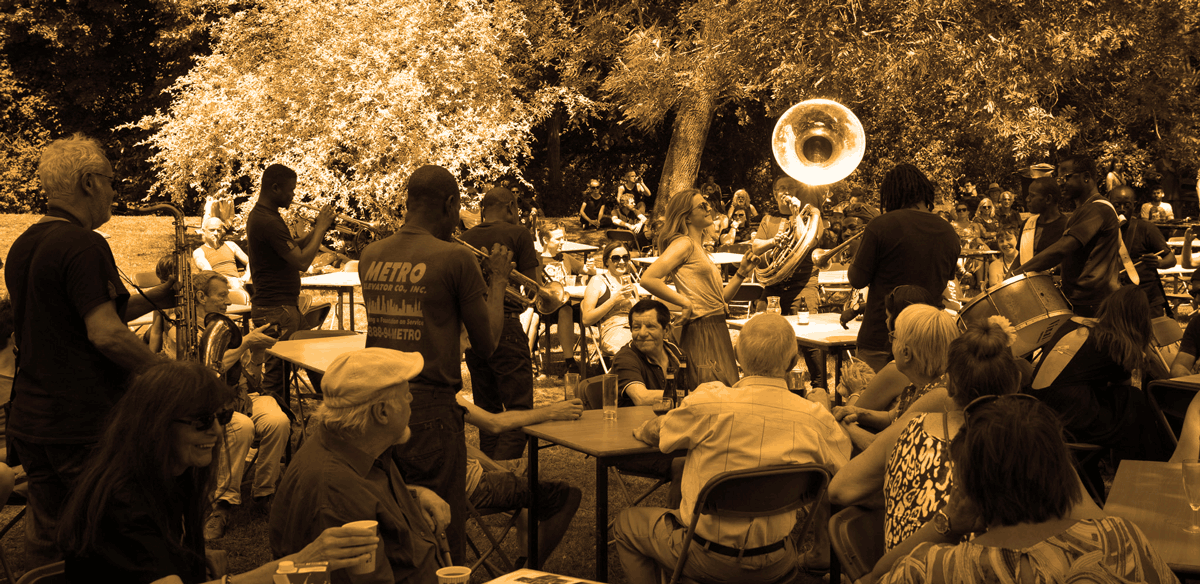 © Gunter Verbeeken
festival CITADELIC FESTIVAL 2023 #16 * adventure in music at the park


Times can change or may vary, please always check shedule !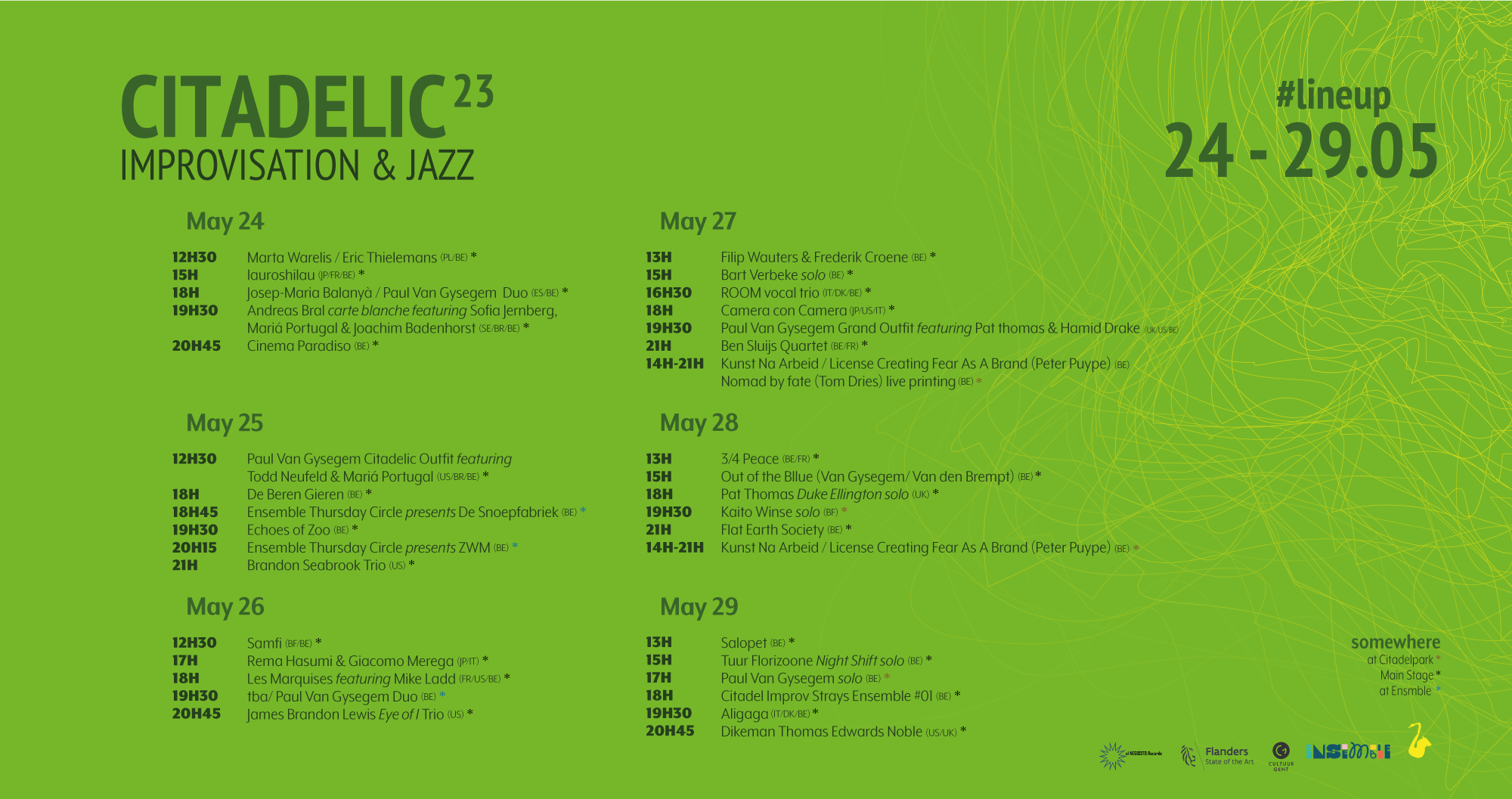 From
Wednesday May 24 until Monday May 29, Citadelic Festival, the 16th edition chock-a-bloc adventurous music with a focus on jazz and improvisation for young and old
is back at the Citadelpark in Ghent. The offerings are eclectic, the atmosphere still very low key.
Classical, avant-garde, indie, contemporary, or experimental, the program is so versatile that
everyone should find something to their liking
.
Originality, the underbelly of society, developing one's own voice and embarking on a musical quest is what has made jazz a global
art form
.
No less than 6 days on a musical rollercoaster, that's what we envision, with more than 25 concerts. In addition to fascinating music, you can continuously enjoy a summer snack and a fresh drink, offered by El Negocito.
International visitors we will enjoy are such greats as the
Brandon Seabrook Trio
, the
James Brandon Lewis Trio
and
Dikeman Thomas Edwards Noble
, plus we get the chance to hear musicians such as
Hamid Drake, Sofia Jernberg, Mariá Portugal, Todd Neufeld, Marta Warelis, Josep-Maria Balanyà, Rema Hasumi, Giacomo Merega
at work.
On June 1st, the SMAK Museum will welcome the acclaimed Joëlle Léandre (Vision Life Achievement Award), one week before she leaves for New York to receive her life's work;
but we look equally forward to Paul Van Gysegem's daily musical escapades, the fresh jazz of Ghent favorites De Beren Gieren, the punk attitude of Echoes of Zoo, the refined Ben Sluijs Quartet, the carte blanche given to pianist Andreas Bral, the wonderful accordeon sounds of Tuur Florizoone or the crazy gang of Flat Earth Society...
and so much more
On Saturday and Sunday, visual artist
Peter Puype
offers a stage through his work '
Kunst na Arbeid
' and there will be ive printing on site.
free entrance


PROGRAM
Wednesday May 24
Marta Warelis / Eric Thielemans * lauroshilau * Paul Van Gysegem / Josep-Maria Balanyà Duo * Andreas Brals Carte Blanche ft. Sofia Jernberg, Joachim Badenhorst & Mariá Portugal * Cinema Paradiso

Thursday May 25
Paul Van Gysegems Outfit ft. Todd Neufeld & Mariá Portugal * De Beren Gieren; * Ensemble Thursday Circle presents De Snoepfabriek * Echoes of Zoo * Ensemble Thursday Circle presents ZWWM * Brandon Seabrook Trio

friday May 26
Samfi * Rema Hasumi / Giacomo Merega * Les Marquises ft. Mike Ladd * Karen Willems / Paul Van Gysegem Duo at Ensemble * James Brandon Lewis Eye of I Trio

continuously: Kunst na Arbeid stage



Saturday May 27
Filip Wauters & Frederik Croene * ROOM * Bart Verbeke solo * Camera con Camera * Paul Van Gysegems Grand Outfit ft. Pat Thomas & Hamid Drake * Ben Sluijs Quartet

Sunday May 28
3/4 Peace * Out of the Blue * Pat Thomas "Duke Ellington" solo * Kaito Winse solo * Flat Earth Society

continuously: Kunst na Arbeid stage



monday May 29
Salopet * Tuur Florizoone Night Shift solo * Paul Van Gysegem solo * Citadelic Improv Strays Ensemble #01 * Aligaga * Dikeman Thomas Edwards Noble

THE MUSICIANS
Joachim Badenhorst
Josep-Maria Balanyà
Benjamin Boutreur
Andreas Bral
Tom Callens
Gerald Cleaver
Federco Corsini
Frederik Croene
Nathan Daems
Philip De Jager
Niels De Jonghe
Marcos Della Rocha
Moussa Dembele
Peter Delannoye
Bram De Looze
Berlinde Deman
Elias D'Hooge
Marieke D'hose
Laris D'Hose
John Dikeman
Hamid Drake
John Edwards
Tuur Florizoone
Vanessa Diaz Gil
Arno Grootaers
Rema Hasumi
Willem Heylen
Sander Huys
Sofia Jernberg
Daniel Jonkers
Taejung Kim
Mike Ladd
Pak Yan Lau
Audrey Lauro
Pauline Leblond
Frederik Leroux-Roels
James Brandon Lewis
Tom Malmendier
Bart Maris
Stan Maris
Marc Meeuwissen
Martí Melià
Christian Mendoza
Giacomo Merega
Iskander Moens
Cooper-Moore
Todd Neufeld
Steve Noble
Yuko Oshima
Fulco Ottervanger
Dré Pallemaerts
Mariá Portugal
Kristof Roseeuw
Ben Sluijs
Brice Soniano
Leonard Steigerwald
Pat Thomas
Falk Schrauwen
Brandon Seabrook
Simon Segers
Jon Sensmeier
Noami Sijmons
Emilie Škrijelj
Elvira Skovsang
Chad Taylor
Eric Thielemans
Peter Vandenberghe
Werend Van Den Bossche
Kim Van den Brempt
Warre Van de Putte
Joos Vandueren
Ewoud Van Eetvelde
Paul Van Gysegem
Kurt Van Herck
Lieven Van Pee
Bruno Vansina
Zjef Van Steenbergen
Bart Verbeke
Teun Verbruggen
Peter Vermeersch
Nele Vernaillen
Bart Vervaeck
Matra Warelis
Filip Wauters
Josh Werner
Karen Willems
Kaito Winse
Laura Zöschg

INFO / SAFETY
no reservation or registration needed
We especially wish you to enjoy your stay, but in a safe environment.
with the terrific support of the Flemish Community and the City of Ghent